CIO PS chairs CIO summit as part of Apps World/IoT World North America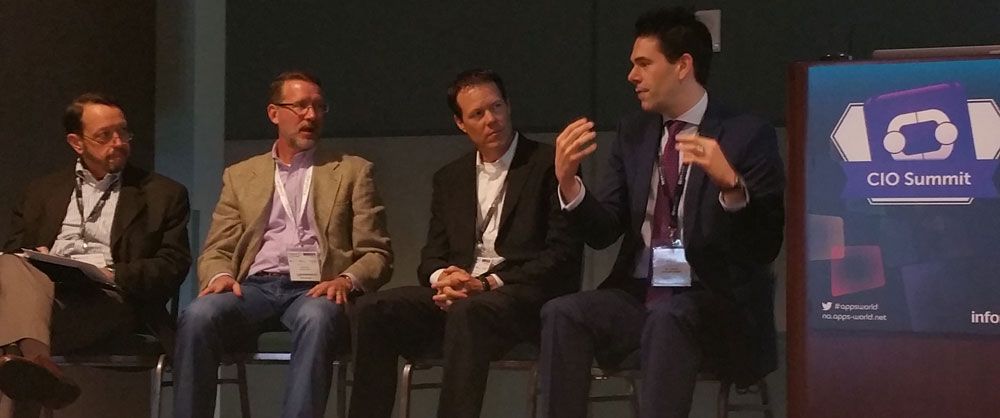 Jeff Richards was the track chair and panel moderator at the CIO Summit at AppsWorld May 12th. There were an estimated 7,000 attendees at the conference.
The panel on the "Evolving Role of the CIO" included L-R Jeff, Steve Reese, CIO of the Phoenix Suns, Bill Schlough, CIO of the San Francisco Giants and Neil Goodrich, CIO of M. Holland Co.
*****
The CIO Leadership Summit will be taking place as part of this year's Apps World North America. This will be an opportunity for the leaders in Enterprise technology to meet with each other in an intimate and exclusive setting.
Closed to press and held to Chatham House Rule, the summit will be a gathering of the most influential and senior level guests of appsworld for a private lunch and a series of roundtable discussions.
These conversations aim to define and develop the future direction of Enterprise technology.
Apps World and IoT World conferences are running concurrently on May 11 and 12 at the Santa Clara Convention Center. Our Managing Partner, Jeff Richards, is the Track Chair for the embedded 1 day CIO Summit on May 12.
Other speakers include: Bill Schlough, CIO, San Francisco Giants; Arlette Hart, CISO, FBI; Andres Wolberg-Stock, Global Head, Emerging Platforms and Service, CitiGroup; and Ruby Walla, CIO TD Bank.
The Summit themes are Enterprise Mobility, Cyber Security and Dev Ops.
Please contact us if you would like to attend any or all of the above.