Details

Published: Wednesday, November 05, 2014 08:00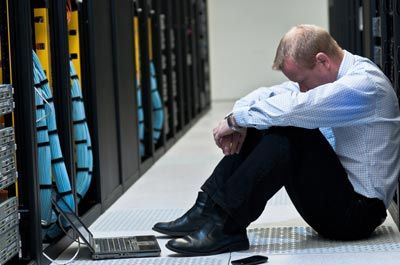 By Mark Tonnesen
Associate
Over the years, the norm within most IT organizations has been to want to own, manage and control things. The objective has been to have some control over the outcome and, ultimately, the success. As a result, many CIOs are still hosting their own data centers. While this approach probably made a lot of sense in the past, times have changed. The reality is, it's no longer a competitive advantage to own and run your own data center.
To stay competitive, your priority needs to be the delivery of the services that ride on top of your data center infrastructure. That's why consolidating your data centers, virtualizing as much as possible, and partnering with a reputable hosting provider should be part of your strategic IT planning process.
What are the Advantages of Third Party Data Centers?
Third party data centers are able to achieve economies of scale that your in-house data centers never will. Some of the advantages that they can offer include:
Lower cost – With all of the networking hardware, personnel and infrastructure costs spread out over so many customers, third party data centers can provide the service you need less expensively than what it will cost you to do it yourself.
Better delivery – When you build your own data center you have to make an educated guess about how much capacity you'll need. Third party data centers can reliably absorb the variances in demand that take place day-to-day, month-to-month and even year-to-year.
Higher security – The name brand providers (i.e. the Amazons and Microsofts of the world) are billion dollar companies that have the proven experience and expertise that your business requires. They'll over-index on management, performance, scale and security. And they'll do this much more efficiently than you can.
Which Services should be Part of the Data Center Consolidation?
Data center consolidation must mirror and support the consolidation of your services and applications that ride on top of this infrastructure. The best approach is therefore to segregate your key services and then migrate the common services and applications into a cloud (SaaS) solution whenever possible. For example, payroll, commissions processing, human resources systems, content management and marketing campaign management are all very common "out of the box" systems that do not need to be on-premises.
When is the Best Time to Consolidate Your Data Centers?
There are a number of points at which consolidating your data centers makes sense, including:
Mergers and divestitures – With so much M & A activity going on in every industry, many IT executives have ended up with multiple data centers and multiple systems of different varieties. They're struggling with how to create a data center environment that can adapt quickly. In situations like these where strategic IT planning is already taking place to figure out how to consolidate applications and services, data center consolidation should be done in conjunction with the consolidation effort.
When you're facing budgetary pressures – If you look at the resourcing, hardware infrastructure, software, networks, telecom and other services surrounding them, you'll probably find that maintaining in-house data centers is eating up 30 to 40% of your IT budget. If you can get away from a majority of that and consolidate your data centers to a third party who will take control, manage it and give you the level of service you need, you will almost always save money. The cost savings are even higher when you can consolidate multiple data centers into just one or two (strategically aligned geographically to support your customers and business).
During system upgrades and conversions – Plan to make these changes at the same time that you're making other changes. This will likely save you time and money, both short and long term. Budgets are always tight and this strategy provides an ability to make changes with minimal additional disruption.
Whenever you choose to do it, getting out of the data center business will free up your time and resources to focus on the products and services that your executives and customers actually care about.
About Mark Tonnesen
As an experienced business and technology leader, Mark has proven that he can take on large-scale business and technology transformation challenges. Most recently, his success in driving business by scaling consumer-facing 24x7 services has made his expertise strategically important to two different businesses.
Mark's 25+ years of experience developing and implementing business and IT strategies has focused on driven top-line growth while optimizing both operational expenditure and gross margins. Mark is known for delivering quality results, even under difficult market conditions.
About CIO Professional Services
CIO Professional Services LLC is a top-rated IT (Information Technology) consulting firm, based in the San Francisco Bay Area, specializing in strategic IT consulting and business / IT alignment. Companies come to us seeking assistance with their information technology strategy as well as to source interim CIO / CTO employees or fractional CIO / CTOs.