Details

Published: Tuesday, July 02, 2019 07:00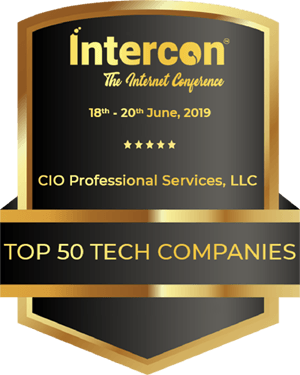 By Jeff Richards
Partner

Since 2009 CIO Professional Services has provided strategic IT consulting and business/IT alignment services for a wide range of enterprise clients. Our consultants are all highly-experienced, world class executives who have a true passion for what they do.
Seeing the significant difference that our efforts make for our clients is enormously satisfying. Receiving glowing testimonials from these clients always makes our day. As my father always said, a job well done is its own reward…and normally I would agree and say that all of this feedback is enough.
But as we were recently reminded, sometimes it really feels good to receive recognition from your peers, too.
Honored to be recognized for our achievements
In June Rob Shearin, one of our Associates, attended the Intercon 2019 conference in Las Vegas. This event brought together some of the biggest leaders in the internet technology space to look at how internet companies are changing the face of businesses and driving the new global economy. It was a great opportunity for participants to learn, network and grow their businesses.
It was at Intercon that CIO Professional Services was recognized as one of the Top 50 Tech Companies. Quite an honor!
To select the winners for this Top 50 Tech Company award, Intercon had 35 research analysts screen thousands of firms. The preliminary score sheets were then put through a peer review and ratified by the Awards Committee. The final shortlist of 150 firms then went through a telephone screening round and filled out a more detailed written questionnaire. All firms under consideration were then judged on five parameters:
Overall Reach
Industry Impact
Spirit of Innovation
Future Readiness
Market Demand
Obviously CIO Professional Services made the cut. Knowing it was such a rigorous process makes winning even more meaningful!
Seeing the parallels
Of course, in looking at the five parameters on which we were judged, what strikes me is the parallels between this list and the work that we do. For example, take "future readiness" and "spirit of innovation." Our four key service areas are IT Strategy, Process Management/Improvement, IT Operations and Strategic Sourcing. Organizations that are struggling in any of these four areas will find it difficult (if not impossible) to proactively prepare for future industry changes and trends. And fixing whatever is wrong certainly requires a spirit of innovation—and an understanding that change, while difficult, is a "necessary good," not a "necessary evil."
Conclusion
Yes, a job well done is its own award. But third party validation like this feels great, too!