Details

Published: Wednesday, May 13, 2015 09:20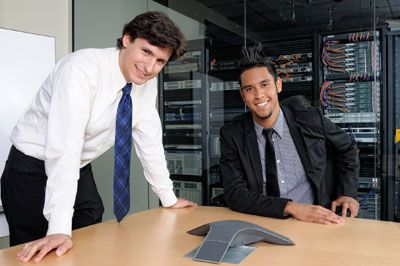 By Rocky Vienna
Principal
A witch's brew of globalization, disruptive technology, and regulatory compliance has created a new set of challenges for business executives. Never before has Information Technology – and the knowledge and experience of a seasoned CIO – been so integral to a company's success and outright survival.
Whether yours is an emerging company, a small company or a mid-size company, having a part-time or fractional CIO serve on your Executive Management Team is the most effective way to get the benefits of having an experienced CIO without taking on the expense of having a CIO on staff full time.
Why a part-time CIO will complete your team
It's common for small and mid-size businesses to have an infrastructure-centric IT manager who doesn't yet have the business acumen of a seasoned CIO. This IT manager is vital for day-to-day IT management, but just isn't capable of guiding the executive management team through strategic IT-related issues and opportunities. In addition, this junior team member does not have the experience to ensure that you have the proper business processes and related business systems in place to support growth.
To augment your team, an experienced CIO will bring a distinctive understanding of how an enterprise, and its supporting technology and business processes, evolves through its developmental growth stages, and how innovative IT approaches can increase the value of your company's products and services.
How a part-time CIO will complete your team
A part-time CIO for SMBs (small to medium-sized businesses) can provide your company with:
1. Methods to leverage technology and processes to drive growth
Often, early-stage companies struggle with supporting growth without additional operational costs that usually come in the form of adding headcount.
A fractional CIO with start-up experience has "been there and done that" and knows how to introduce sound business processes that support your company's growth without stymieing innovation and agility – and reduce the need for additional headcount to support administrative needs. These early-stage processes are the foundation for good business practices and governance as your company matures.
I've worked with a number of companies that have had to implement emergency programs to focus on process and governance in order to prepare for an IPO or to improve their "appearance" to be an attractive acquisition target. Starting early is less disruptive, and becomes part of your company's DNA while increasing its potential valuation.
2. A ready resource for advice on large technology investments, strategic direction, and acquisition issues
An experienced part-time CIO for SMBs, especially one that has been a member of executive management teams elsewhere, can provide valuable advice on creating an IT strategy that is aligned with your company's strategic plan. This early alignment will provide a roadmap for the IT investments required for growth, and will save precious capital in the long run.
M&A transactions do not always meet expected financial goals due to unidentified IT risks, unplanned IT integration expenses, and a lack of focus on IT cost savings opportunities. Pre-acquisition, a technology due diligence process will identify potential IT cost savings, impact on infrastructure architecture, and integration strategies. During the integration phase, a knowledgeable fractional CIO will identify operational risks and mitigation strategies to manage the critical transition period across business units.
3. Input on management issues such as regulatory compliance and governance that require experience beyond that of a junior IT manager
The list of compliance regulations (SOX, PCI/DSS, FERPA, HIPAA, RoHS, 21 CFR Part 11, Patriot Act) is long and getting longer. It's no surprise that, depending on the nature of your business, compliance issues are most likely on the agenda of your executive management team.
The implications of regulatory compliance for IT departments can be far reaching, time consuming, and expensive. Because of the risk exposure to the company, including its brand, "doing it right the first time" has never been so important. A fractional CIO can create the governance techniques, processes, and frameworks that can be applied to support compliance.
Experienced part-time CIOs have the street credentials and the boardroom savvy you will require from your own CIO when your company decides it is ready for one full-time. Adding an experienced part-time CIO to your team will help ensure an effective and efficient application of your IT assets, and enable you to acquire the executive IT management experience your company needs for a fraction of the cost.
About Rocky Vienna
With over 25 years of experience as an IT executive and business consultant for leading global brands, Rocky brings deep expertise in IT Strategic Planning, IT Governance and Compliance, Enterprise Program Management, M&A Integration, Business Process Reengineering and Outsourcing Strategies and Management.
Rocky specializes in high-visibility transformational engagements. He has led enterprise initiatives at an impressive array of Fortune 100s, start-ups, and medium-sized fast-growth companies in health care, technology, financial services, retail, publishing, hospitality and higher education.
About CIO Professional Services
CIO Professional Services LLC is a top-rated IT (Information Technology) consulting firm, based in the San Francisco Bay Area, specializing in strategic IT consulting and business / IT alignment. Companies come to us seeking assistance with their information technology strategy as well as to source interim CIO / CTO employees or fractional CIO / CTOs.